Project Solar Reviews USA
We may earn commissions for purchases made through links on our site. Learn more on our about us page.
Having solar for your home can increase property values if you are ever thinking of selling. It can also be a great investment if you are thinking of staying in your home long-term as well, as it provides savings for the long run on your electricity bill. 
Unfortunately, there are many shady companies out there that provide fake information, poor installs, low-quality materials, or exorbitant prices. Therefore, it is reasonable to be nervous when you see an ad for a relatively new company. 
Thankfully, Project Solar, though a little obscure and new, seems to have mostly good reviews. They claim and are backed by their customers to have high-quality materials and low prices that simply come from cutting out the middleman. 
Continue reading to learn more about Project Solar based on customer reviews.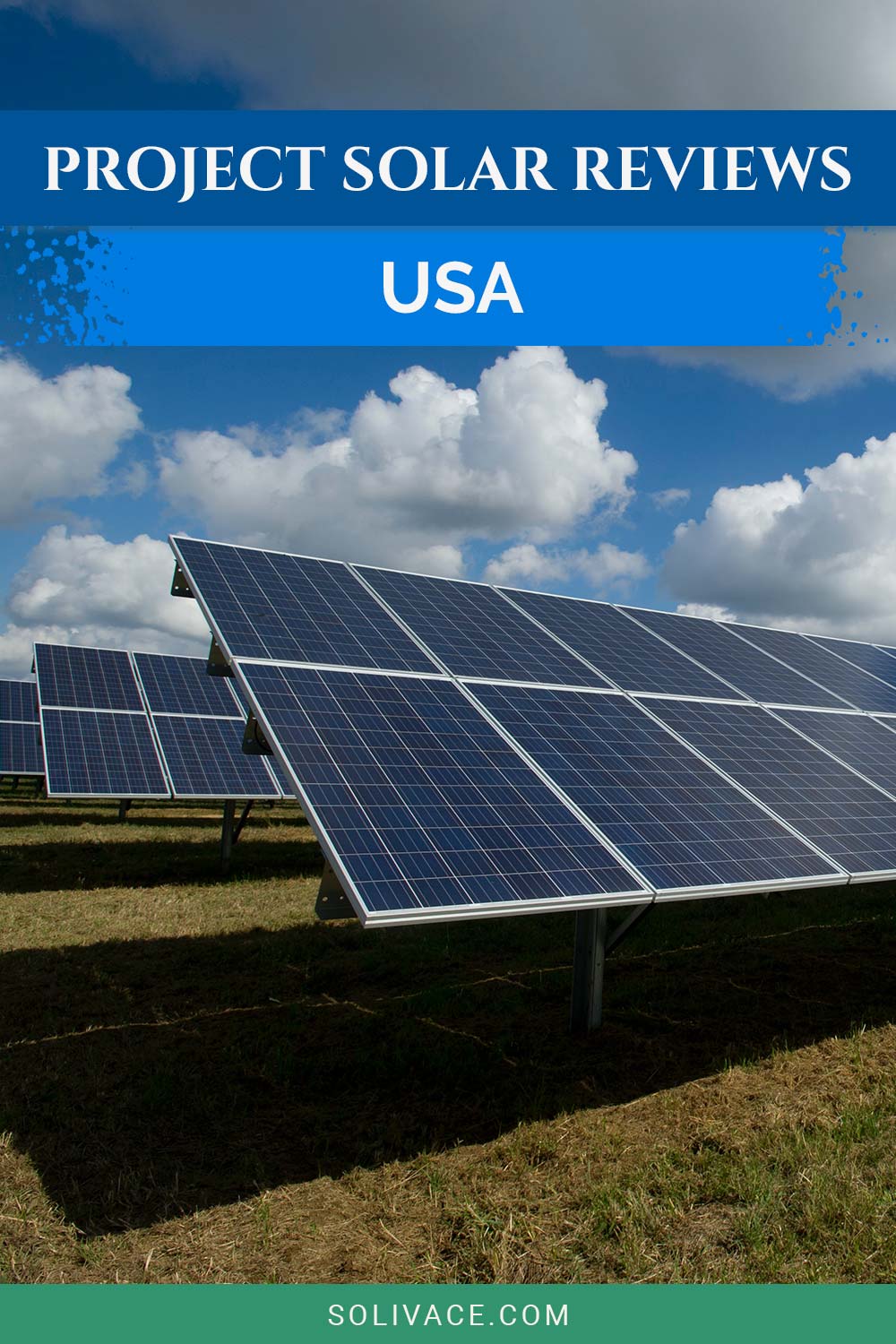 What Do Reviews Say About Project Solar in the USA?
Project solar hasn't been around for long. They originated in early 2020. Because of this, there are, unfortunately, no long-term reviews. However, so far, the reviews that have been about this company are fairly positive. 
On average, they tend to sit around 4.3 to 4.5 out of five stars. Again, this is from websites like BestCompany and EnergySage. 
The company overall is very active online as well, which has impressed many people. They even post on Reddit and reply to questions anyone may have. 
What Are the Advantages of Project Solar According to the Reviews in the USA?
The biggest advantage is that Project Solar comes at a lower cost than most other solar installations. This is because Project Solar is primarily a do-it-yourself (DIY) project. 
This allows you to save some money and install it yourself or have an installation done for a bit more money. This option can increase the number of people who can afford to install solar. 
Another advantage is that Project Solar has a lot of accreditations, making users and potential users feel like they are in good hands. Some of these accreditations include:
International Organization for Standardization (ISO)

Chartered Trading Standards Institute's Consumer Code Approval Scheme

Home Insulation and Energy Systems Quality Assured Contractors Scheme (HIES)

Microgeneration Certification Scheme (MCS)

National Association of Professional Inspectors and Testers (NAPIT)
They also use some pretty high-quality solar companies for their manufacturers, such as:
Curv

Growatt

Tigo Energy

Solar X

Sunpower

Perlight
Is Project Solar in the USA Too Expensive According to the Reviews?
Many people don't find Project Solar to be too expensive. But, even if the initial costs are a little high for some, the benefits from this company are well worth it. 
You can see this just by looking at the quality of solar panels you get. Generally, they offer two main solar panels, with different price points to fit your needs. However, all of their solar panels are tier 1, meaning they are the best of the best. 
They also come with micro inverters that you can use to diagnose any issues yourself instead of relying on the company to help when something goes wrong. 
These panels are incredibly effective compared to other solar panels, meaning that you need less of them to power up your home. 
They also eliminate door-to-door salespersons. This helps eliminate over half the costs compared to other solar companies as you are only paying their company and not an additional person. 
All of this together creates a system that saves you money in the long run and is often much cheaper to install than a system would be from other companies. 
What Are the Flaws of Project Solar USA in Reviews?
One downside is that they don't have in-house financing. This can make it more difficult to get the financing you need to go forward with solar than some other companies. 
Also, they have some issues with their software. When you perform DIY work, you are meant to be provided with documents to help you get started. 
However, sometimes these documents don't get sent, leaving the purchaser in the dark. A quick message to the company will fix it, but it can be a pain in the meantime. 
Also, though they don't have a contract stating when projects should be done, they do insinuate a certain timeline. 
However, they tend to underestimate the amount of time that it takes to get permits and such in certain areas, sometimes causing the project to be pretty delayed. 
This can be pretty frustrating for those paying. 
Is Project Solar Popular in the USA According to the Reviews?
Project Solar is growing in popularity. Many people that post about solar in forums find this company to be honest, up-front, and cheap without sacrificing quality or labor. 
However, many are scared. Since they are such a new company, and not much is known about them or their quality long-term yet, many assume that this company will fade away soon enough or has secretive, unethical business practices to save cost. 
While there is no proof for these accusations yet, it is fair to be wary of a new company. 
We do have to say that those that have purchased solar from them, whether using the DIY method or the installation, do appear to be happy based on forum posts and reviews, and we think it is well worth a try. 
Final Thoughts on Project Solar Reviews USA
For those that are willing to be cautious and ask the right questions, this company can be a great investment. The costs are cheap while still providing you with good labor and quality materials. 
While there have been no reports of fraud or dishonesty yet, even on the Better Business Bureau, it is still best to be cautious and, if you are unsure, to look at another company.