FPL Solar Together Reviews – Everything You Need To Know
We may earn commissions for purchases made through links on our site. Learn more on our about us page.
Florida Power and Light (FPL) is an electric utility company that supplies most of Florida's residents with the energy they need to keep the lights and other appliances in their homes.
FPL's Solar Together is a new program that aims to provide all FPL customers with an affordable solar option for a more sustainable future. 
A subscription to the service is required, but there are no long-term contracts, financing, installation, equipment, or termination fees.
Keep reading to learn more about this new way to access clean energy and whether or not it may be the right fit for you.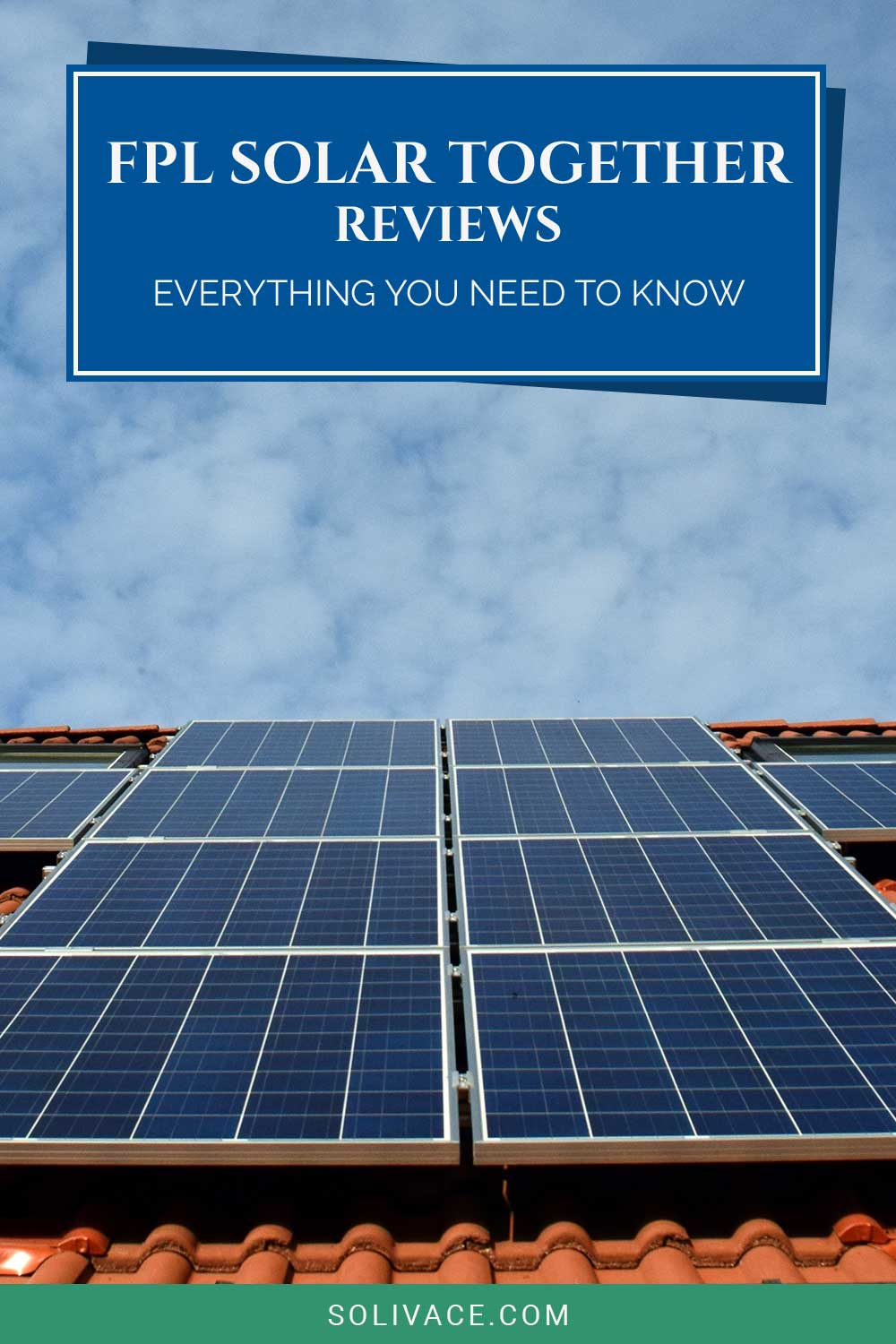 Is FPL Solar Together Good?
The quick answer to this question is: it depends. It depends on what aspects of the program you define as good and your unique financial situation.
Participating in just the first year of the program would result in you paying an additional couple of dollars per kW of electricity used. Paying more for something that is supposed to be generating savings for you is pretty backward.
However, the longer you subscribe to the program, the better it is for you in terms of savings. It may not be the best option out there, but it is one of the few options for residents living within FPL territory.
What Are the Advantages of FPL Solar Together?
There are a few advantages to FPL's Solar Together program that you should know of if you're interested in changing how we generate electricity and combating manmade climate change.
The biggest advantage that many people rightly observe is that there is a very low initial investment cost associated with joining the program as opposed to designing and building a personal system of solar panels.
This is great for those who are very risk-averse, and to seal the deal, customers can cancel and exit from the program at any time without penalty (although they cannot reapply to the program again for 12 months).
Another benefit of the program is the savings that can be earned through the solar credits accrued through Solar Together. 
However, this may not be your main focus, considering the program is designed more toward altruistic individuals who want to support solar power without expecting a reward in return.
If you don't like the look of solar panels, you also get the minor benefit of not having panels on your personal property.
What Are the Negative Sides of FPL Solar Together Review?
Although the savings are a benefit of the FPL Solar Together program, they are also the main disadvantage at the same time. It takes a long time to start accruing enough solar credits to be earning any tangible savings.
You can subscribe for any amount of solar energy you want or can afford, but to cover the average monthly electric bill of a Miami resident, you would need to subscribe for 11 kW at $6.76 per kW per month (at the time of enrollment).
An individual who did so can expect almost $3,900 of savings over 30 years of subscribing to the program thanks to the credit rate increase of 1.45%, while the fee remains the same throughout the lifetime of a subscription.
Therefore, the average savings comes to just $130 per year. This is certainly better than what most people can hope for from a savings account at a bank but not great overall.
The other most prominent disadvantage would be that you would be strengthening Florida Power and Light's monopoly in the state as a utility company by subscribing to the program. 
The potential negative effects of this are powerful, especially if FPL decided to raise utility rates for all customers since there isn't much competition.
When Should You Apply for FPL Solar Together Reviews?
Pre-registration for the Solar Together program started back in May 2022 and quickly reached capacity such that there is no availability currently. 
What this means for people looking to join the program is that you can join the waitlist to be notified if and when the space for new subscriptions becomes available.
The waitlist is ordered on a first-come-first-served basis, so people who registered right after the Solar Together program reached capacity will be the first to know about new availability. 
If you are notified of space for a new subscription, Florida Power and Light give you 14 business days (essentially three calendar weeks) to complete your enrollment into the program.
There aren't any benefits to signing up at one time over another because the solar credit rate increase is only given to existing customers year after year. Therefore, it's best to get on the waitlist as soon as possible if you want to participate in the program.
Just make sure that your account with FPL has no delinquent or late balances, as well as 12 months of FPL usage at your residence (renting and owning don't matter), with at least one month of billing usage for the current account.
How Long Do You Need to Be a Part of FPL Solar Together Until it Starts Paying Off?
Like many things in life, the high initial investment cost can be intimidating to overcome, and people often look for a return on investment (ROI) or when the item starts to pay the principal cost. 
Unfortunately, to experience the bill-saving effects of Florida Power and Light's Solar Together program, you have to be a subscribed member for at least five years.
Not only will you not start seeing savings until five years into the program, but you won't break even on your costs until after the 7th year. 
This is in stark contrast to other solar programs or even individuals with Solar who start to see savings as soon as they join a solar program or install solar panels.
People who install their own solar panels can also benefit from the federal government's solar investment tax credit (ITC) on new systems. The credit is 26% of the system for the years 2020-2022 and is lowered to 22% for systems installed in 2023.
Final Thoughts on FPL Solar Together Reviews
Florida Power and Light is taking steps to increase the amount of solar power supplied to the public in the Sunshine state, and the Solar Together program is just one of these steps.
The program is not perfect for everyone, especially individual residents, but there is an opportunity to support future investments in solar-powered technologies and systems without having to fork out a huge amount of money all at once.